In this post, you will discover:
How to conduct NPI Lookups
Who can use NPI Records and for what purposes
How to access referral data for physicians and healthcare organization
To submit and process healthcare claims, any licensed physician, provider, or healthcare organization must apply for a National Provider Identifier (NPI). The National Plan and Provider Enumeration System (NPPES) is a standardized database created and managed by the Centers for Medicare and Medicaid Services (CMS) and assigns NPIs to "improve the efficiency and effectiveness of the electronic transmission of health information."
These standard identifiers are for anyone who is covered under the Health Insurance Portability and Accountability Act (HIPAA). Two types of healthcare providers are provided these numbers: Type 1 and Type 2.
Type 1 are made up of individual healthcare providers (for example: physicians, dentists, and all sole proprietors).
Type 2 are made up of organizations (for example: hospitals, home health agencies, ambulance companies, health maintenance organizations, durable medical equipment suppliers, pharmacy, pharmacies, etc).
Individuals only operate under one NPI during their existence no matter if they change names, locations or organization under which they provide services.
Getting an NPI
The CMS Medicare enrollment process requires providers to create a PECOS account, which stands for Provider Enrollment, Chain, and Ownership System, in addition to registering for an NPI. The PECOS is an online management system through which registered users can submit and manage their Medicare enrollment information.
Providers can also choose to opt-out of the federal program by submitting a Medicare Opt-Out Affidavit. Providers who don't participate agree to not bill or process insurance; patients pay the provider directly.
The Value Hidden within NPI Data
Publically available NPI data include common identifiers, contact information and taxonomy. However, with the right tools and datasets, the aggregation of public records can uncover more meaningful information, including ongoing tracking history, shared relationships between physicians and other healthcare providers, and referral analysis - all of which can impact your bottom line.
That's where NPIDashboard.com comes in. First, we'll take a look at how to use NPI Lookup on our site
How to Conduct NPI Lookups
At NPIDashboard.com, we've made NPI Lookups simple. You can find NPI information using any of the search fields: NPI, name, partial name, organization, partial organization name, practice phone number, specialty and address information. You can enter partial data, such as 'Endo' as part of an organization name.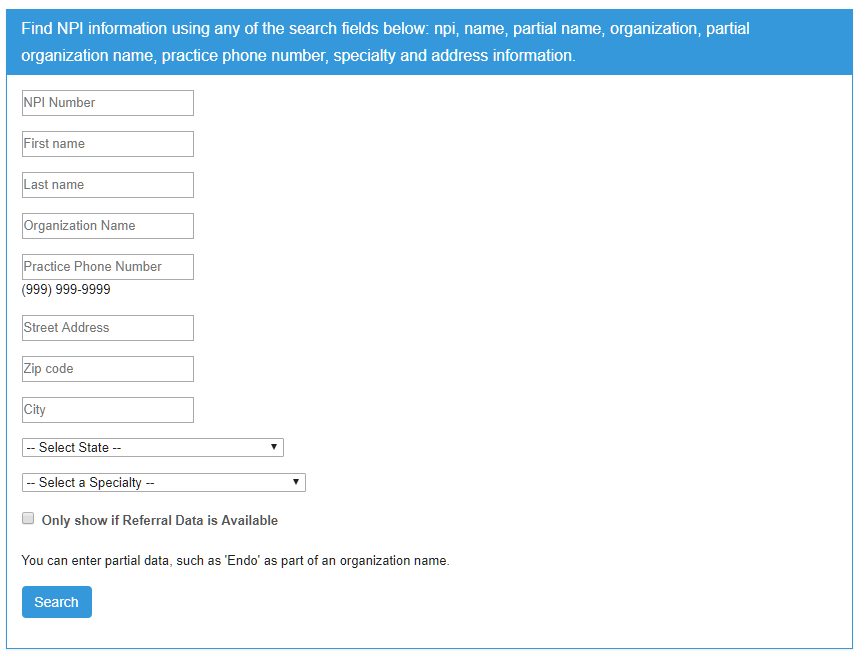 NPI Lookup Screen
If you've never done an NPI search, the results can be difficult to navigate. What's more, these records change. The publicly downloadable NPI database that is used by many websites can be updated on a weekly basis. Without automated monitoring, updates can go undetected.
Before we look more closely at monitoring NPI, let's take a look at the information available in these records.
The Anatomy of an NPI Record
Each NPI record has 329 data items; however, CMS only makes available parts of an NPI record: the provider's name, specialty (taxonomy), and practice address.
Below are descriptions for the main fields found in NPI Lookup search results through NPIDashboard.com.
Name: The name that appears here will be the legal business name associated with the provider. For individuals, that will be their first and last names.
NPI: This is the 10-digit National Provider Identifier (NPI) assigned to the provider by the National Plan and Provider Enumeration System (NPPES).
NPI Type: An icon identifies if the Provider is a Type 1 Individual Provider (a person icon) or a Type 2 Organizational Provider (a hospital icon)
Overview - A summary of the information available for the practice or provider, including a description of its location, whether they're open to new patients, what their NPI number is and how long ago their information was last updated.
Exclusions - Whether we have detected any Exclusions tied directly to this NPI.
PECOS - A "yes" or "no" whether this provider participates in PECOS.
Practice Location Information - the physical address where this provider or organization provides services
Phone & Fax - Contact information where the provider can be called or faxed.
Practice Mailing Information - The mailing address if it differs from the practice location.
Additional Addresses - Whether there are additional addresses associated with this NPI.
Enumeration date - The date this provider was assigned an NPI.
Provider data last updated - The date this provider last had a change or update to their NPI record.
Actual Date information was updated - Often changes occur at a state level and are not reported at the federal level to the CMS. This alert appears with a date when a change occurred that has not been reflected in the federal NPI record.
Map - A Google map rendering of the practice location
Medical Licenses - If any medical licenses are documented at the federal level, they will appear here.
Identifier(s) - Whether or note identifier information is available.
Taxonomy - The state and primary taxonomy codes will be listed here.
Affiliated Hospitals - Any affiliated hospitals within network will be listed here.
Medical Groups - Any medical groups that the provider is a member of will be listed here.
Specialists in Nearby Cities - A hyperlinked list of cities and numbers of organizations within each city that share the same primary taxonomy.
Nearby Specialists - A hyperlinked list of individuals and organizations within the same city or area who share the same primary taxonomy.
Example of NPI Details Screen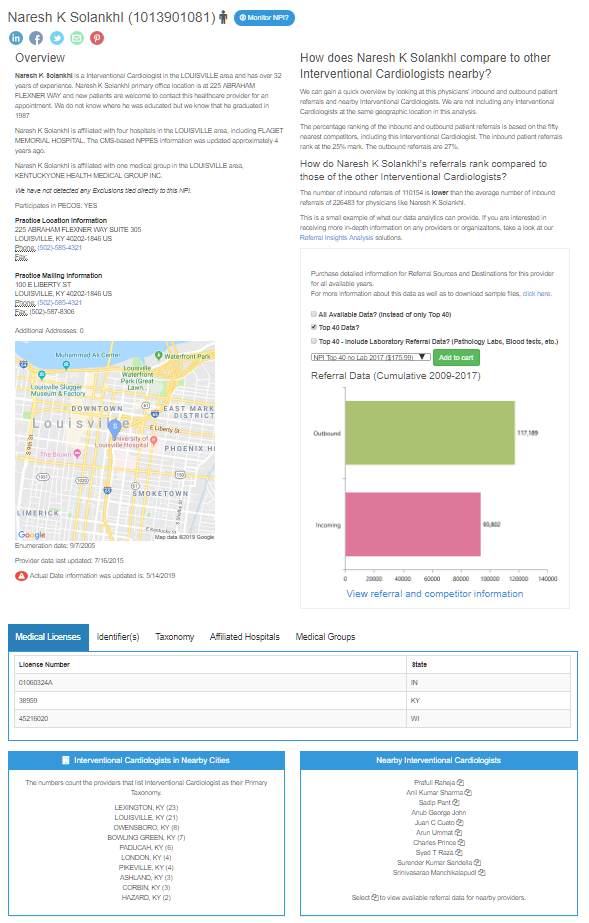 Who Can Monitor NPI Records and for What Purposes
At NPIDashboard.com, you can view the NPI information as well as referral and relationship data on any health care provider or organization that has a National Provider Identifier.
NPI Monitoring Data is available from the first records in 2005 to the present day Several reasons exist to look up physicians and healthcare organizations with an NPI. They include:
Ongoing NPI lookup and validation
Exclusions monitoring and verification
License and sanctions verification for provider networks and health plans
Screening and credentialing providers and vendors as well as non-par or "out-of-network" providers prior to processing and reimbursing a claim
Monitoring provider referral networks and monitoring claims from referring providers
Many of our users find our website while researching providers/facilities. For example:
Patients
Healthcare customers use it to find new referral sources. License data is used to validate that providers' licenses are active as well as to monitor any adverse board actions.
Attorneys
We're finding that many attorneys use the data as part of their research in healthcare fraud cases - mainly to detect anomalies in referral patterns.
We can customize referral data for our clients by physician, business entity, hospital, or region of the country. As of 2015, NPI made proving the referrals in a Stark suit almost effortless for its clients by making referrals from practice groups or organizations or hospitals readily available in many compatible formats.
Our users can save all the time and effort normally expended in researching physician referral data. Even more importantly, since fines for Stark violations are fined $15,000 per violation plus treble damages and/or $100,000 per circumvention scheme, NPI's data can insure that NPI's clients never miss a single referral in violation of Stark.
Providers and healthcare organizations
Providers who are NPI registrants need to monitor their NPI records regularly for to spot errors or inconsistencies. They can also use this information to compare their referral data year over year to see if their sources are loyal or to compare how they're doing to others in the market.
Solutions Available from NPIDashboard.com
Our main focus at NPIDashboard is on serving specialists as well as facilities offering specific services to patients. Whatever your reason for visiting NPIDashboard.com, I want to make sure you know the following:
Our website publishes the publically available provider and facility information. The publicly downloadable NPI database is used by many websites, but most sites use the monthly updates. We update our data based on BOTH the weekly and monthly updates.
We offer referral data (patient referrals between providers and or facilities) reports for purchase that are derived from Medicare referral data linked to information mentioned previously. Download a sample here.
We offer custom solutions (more referral sources/destinations) and automate the generation and updates. We tailor the data for the specific client and we look at the market they are in.
NPI Dashboard's solutions have saved individuals thousands of hours and made critical information simple to manage and access. Read more about our four solutions below.
NPI Monitoring
Trying to find any and all updates in each of the 329 data items of an NPI record can be difficult. Our service makes this very easy and simple. Thanks to our ongoing history tracking of the NPI data, we know exactly when and which data has been changed.
Our FREE NPI Monitoring service for an email when anything has been modified, added or deleted in any of the 329 data items of all NPI records you want to monitor up to 2 records.
In addition to an emailed notification, if you want a detailed report of what has changed in an NPI record that will let you compare the previous version of the data as well as the current state, you can purchase our NPI Monitoring services.
NPI Monitoring services gives you a more detailed report of what has changed in an NPI record that will let you compare the previous version of the data as well as the current state. Click here to read more.
PECOS Bulk Monitoring
With a PECOS Monitoring subscription, our CMS updates more than a million pieces of PECOS data, including adding and dropping providers, several times per week. We have automated the process of bulk pecos search and keeping track of all updates with our PECOS Monitoring solution. You can order this solution here.
NPI Referral Data
This data indicates shared relationships between physicians and other healthcare providers by indicating the number of patients they share as well as who saw the patient first. Detect how many patients are sent by referring physicians and referring facilities instead of being sent to you. Read more about what's included here.
Referral Insights Analysis
Take the NPI Referral Data deeper with custom insights using the CMS referral information. Detailed AI-driven analysis of patient referral patterns will help you focus on the relationships that matter to you. Read more about how it works here.
Finally, your lists are available anytime and can be downloaded with any additions you have made. Every time the data you've signed up for is updated, we will send you an email that shows what has changed.
If you need reliable, inexpensive lists that you own and are automatically updated, these NPI Dashboard solutions are for you.
A Closer Look at the Referral Network
The national referral network is made up of 6.1 million healthcare providers and facilities, including:
Physicians
Laboratories
Nursing homes
Imaging centers
Hospitals & clinics
Rehab facilities
The Referral Network is comprised of almost all of the healthcare providers and organizations in the United States. Each are connected to each other by patient encounters.
Usually, a physician will refer their patient to a specialist or a facility. But yet, only 40% of the patient referrals are completed to the referred-to facility or specialist. In most cases, the patients will go somewhere else.
This is a tremendous impact on the referred-to specialists or facilities.
The estimated cost is on average 80 million dollars in lost revenue per health care system. Currently, providers are not able to judge how they compare to other specialists in their market or to see if their referral sources are sending patients to other specialists.
History of NPI Dashboard
I created NPI Dashboard after many years of IT development work and several healthcare projects, including creating an appointment system.
That project led me to dig deeper into compiling referral data and information about licensing.
I found that so much of the data out there is incomplete, outdated or flat-out wrong. Worst of all, tracking down this information and keeping it updated was time-intensive.
I knew that creating an automated solution would be valuable to the community, so I began my quest to create NPI Dashboard.
On our database, you can find the most comprehensive information out there on any healthcare provider or organization that has a National Provider Identifier. You can also view related providers and organizations as well as referral information when available.
2017 Data Now Available
The 2017 data set was recently released, and we now have it incorporated into our database.
Not only is this newer data than previously available, there is more of it. In 2016, there were 140 million referral groupings available. Now, there are more than 201 million referral groupings included thanks to the latest data release.
Get started with the most comprehensive health care search on the Internet. Click here to conduct an NPI Lookup.